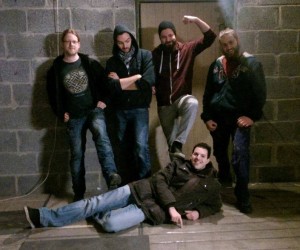 Info & bookings: booking@musketeerofdeath.nl
Live-dates

BIO:
"Ynfamia is a Dutch thrash influenced metal band from Terneuzen, Zeeland. Formed in early 2009, Ynfamia started as a collaboration between vocalist/guitarist José Leijnse and drummer Boris van der Weij. Later that year, bass player Colin Schoone joined the band, together with Chris van Geel who filled in the position of the lead guitar. With this complete line up Ynfamia was officially ready for action.
A common affinity with the thrash metal genre inspired their musical foundation, while a blend of everyone's personal influences was added to create a musical composition everyone within the band could relate to. They immediately began writing songs, working towards a full setlist so they could start doing gigs. In the two years that followed, Ynfamia shared the stage with bands like Jaguar, Martyr, Angel Witch, Rompeprop and Paul Di'Anno.
In july 2011, José deceided he wanted to focus more on his role as vocalist, which meant he would no longer play guitar in the band. This led to a long search for a new member. Meanwhile, they continued doing gigs with a four headed line-up. After a turbulent time of searching for a new member, having several auditions and preparing for their first EP, Kevin Dimmers joined the band in november 2012 to play the bass guitar while Colin switched to guitar.
Shortly after, on the 24th of November 2012, Ynfamia self-released their first EP: "Human Abomination", which contains four tracks. To test the abilities of the new line-up they signed up for the Dutch Metal Battle 2013 and made it to the semi-finals.
In may 2014, bass player Kevin Dimmers left the band, but this time a replacement was quickly found when J-P van Haestregt joined the band in july. The writing of new material will commence soon, so stay tuned!"