FACE YOUR UNDERGROUND XXII
BELGIAN METAL SAMPLER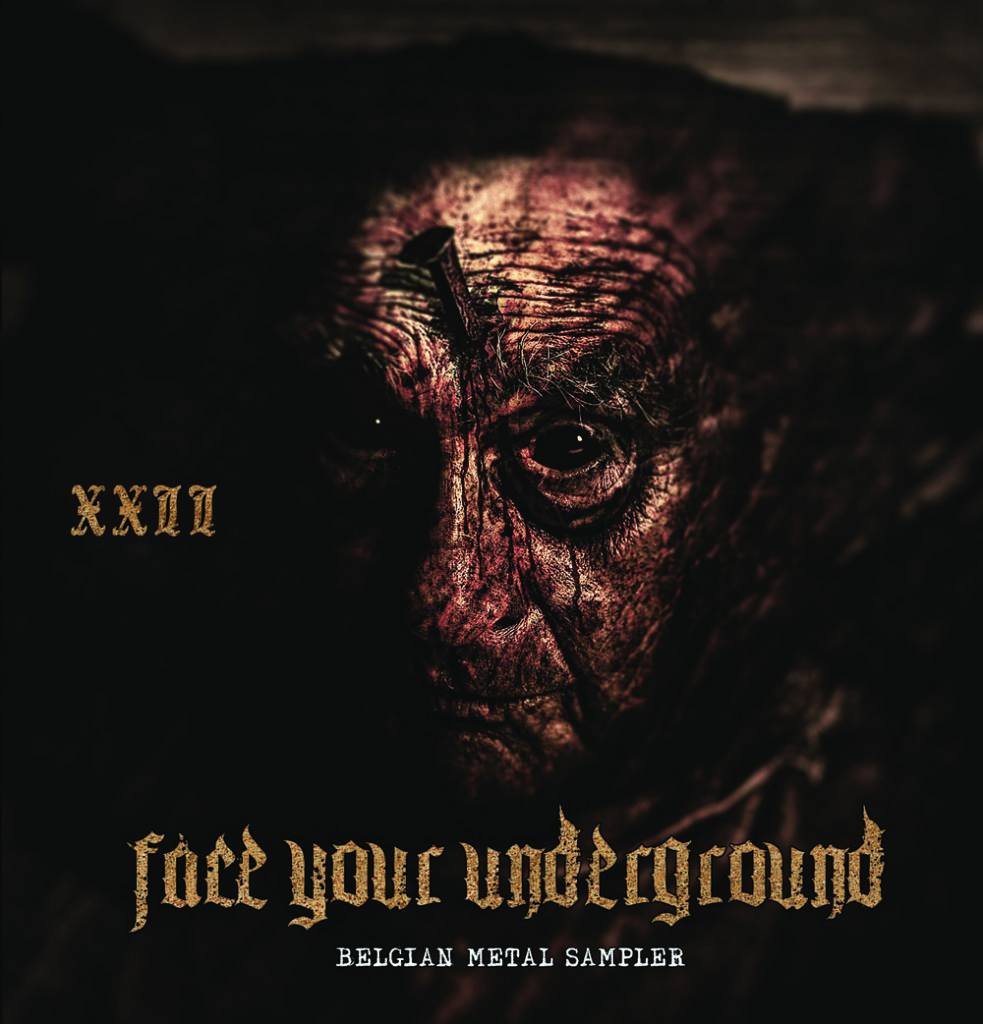 Tracklisting:
01 A Goat As Our Shepherd – Talion
02 Barren – Catharsis/Voidwalker
03 Black Sigma – Lost
04 Burden Called God – Lies
05 Carnal Desecration – Rites Of The Necromancer
06 Chalice – Why
07 Destroy Humanity – Hereditary
08 Excavated – Not The One
09 Humanity Defiled – War Will Be Our Heritage
10 ILL – Vals Ontwaakt
11 Kalmhain – Mookerheyde (Dit Vervloekte Huis)
12 La Nausée – Split
13 Natan – The End
14 Provectus – Pro Semper Absentis
15 Thurisaz – The Veil
16 Works Of The Flesh – Eat Kill Fuck Repeat
In this COVID-era the response of bands to participate on the annual FYU * Belgian metal sampler was so huge there was enough material to fill two CD's. They didn't want to disappoint anyone, so the FYU-crew decided to directly release volume 22 with volume 21.

This 22nd immediately opens very strongly with "Talion" from death metal heads A Goat as our Shepherd. They represent a tight blend of melancholic melodies and great brutal aggressiveness packed in a energetic fresh sound. Not gonna waste too many words, just put this one on repeat and hope there will be soon a full album.

The chainsaw grinders of Barren treat us on 2 songs. "Catharsis" and "Voidwalker". Two vicious grind outburst in the purest. Heavily distorted harsh guitars", a fantastic simmering bass and monstrous drums are the foundation of this crushing roller. Vocals go from beatific full deep growls to screeching shrill screams. When they slower down their G-17 speed, it's like they are driving piles, which delivers an awesome feeling in your abdomen. In one word: Amazing.

As if you're on a festival and go to another stage, the same happens here. From the fast grind of Barren we go to the atmospheric dark/doom of Black Sigma. The first tones of "Dying Sun" enchants you immediately with an indefinable magic of unparalleled beauty. The melancholic sound thrives on hypnotic guitars and haunting keyboard lines completed with forlorn grunts. "Dying Sun" is truly a dark, depressive high mass.
Burden Called God doesn't beat around the bush, their wrenching grooved old school death metal comes in like a breaker. "Lies" is an abominable construction of monolithic guitar lamentations, pounding drums and dark, deep intonations. A real underground symphony. Those of you that love Morbid Angel can now rejoice, because that is exactly where Burden Called God draws its most important influences.

Carnal Desecration massages the eardrums with pure death metal of the brutal kind with a nice groove. Lovers of low-tuned guitars, a demonic bass, straightforward drums and guttural vocals are served promptly. This is definitely Death Metal as it's supposed to damage your neck! A one-way ticket for emergency care you have to take for granted.
The contribution of the established Chalice is "Why". Their sound nowadays can be best described as aggressive death/thrash buried in a gloomy sauce with lots of melody, atmosphere and rhythmic force. The guitars howl and have an intense presence in the sound, the roaring drums are propulsive. The screams are full of anger and the clean vocals are drenched in despair. Chalice shows that they still matter after more than 2 decades.
If there's one band on this sampler that has got groove, it's Destroy Humanity. I think they will win a lot of souls with their mix of Lamb of God and Machine Head. "Hereditary" is a nice piece of inflammatory metal with the necessary core influences that is pleasant to listen to. Extremely suitable for a full meadow on a hot summer day. Circle pit guaranteed.

Excavated isn't a stranger anymore. Their Death Metal is a nice mix of brutality, catchiness and melodies, spending most of the time in mid-tempo. "Not the one" is a powerhouse marching between slow and oppressive and explosive violence. These Walloon are still standing strong!

We stay in the mid tempo DM-section with Humanity Defiled. Their eruption "War will be our heritage" is a killer one with an overall dark atmosphere. It grooves with heavy guitar roarings, a bubbling clear bass, pounding drum-hits and magisterial guttural tirades. A true gem.

Ill evokes with "Vals ontwaakt" a crushing and oppressive dark blackish doomy atmosphere, yet also nocturnal beauty. It bathes in melancholy, displeasure and sickly darkness which works on the emotions. As if it all changes your sensory perception, thought processes and physical effects. The instruments glorify with a dragging painfully slow pace, supplemented with some piercing mid-tempo outbursts. The throaty vokills compliment the music perfectly. Another great underground symphony.
Kalmhain speeds up again with the epic "Mookerheyde (Dit vervloekte huis)". Great ferocious black/death with some post-metal/blackgaze influences with pulverizing guitars, excellent drum skills, shrieking vocals and deep grunts. Although it's gloomy and abrasive, there is somehow a deep sense that there is a bright sheen of light shining, showing how beauty can be found even in the darkest places. A true masterpiece.

La Nausée hits you right in the face with their roaring sludge. "Split" is a sheer sonic onslaught with crushing riffs that are full of rage, exploding drums as a sledge-hammer and deliciously distorted vocals. It reminds me of a mix of Black Tusk and Mastodon, served on a bed of Iron Monkey, quenched with some Deftones. We will certainly hear more about this, a topper first class!

In 2015 the pagan-black-veterans of Natan called it a day, now 6 years later they surprise us with a new song called "The End". Their eulogy is of an expressive beauty. Great dismal pungent black melodies with real dramatic expression and vokills that chills you to the bone. A worthy goodbye.

Provectus treats us on some decent melodic, still savage old school black metal reminding of the early 90's, which can be profoundly admired by those who are fan of melodic aggression. The blackened guitars are strong, original and gloomy from start to end. They bring a healthy dose of melody, still having the intensity and drone of black metal. All that beautifully completed by a flawless drumming performance. The icy and passionate grating grunts thunder across the song. "Pro simper Absentis" is an immense and chilling listening experience.
Thurisaz is a firm fixture on the Belgian metal scene. "The Veil" is an impressive piece of melancholic atmospheric metal what Thurisaz are so famous for. The start of the song is very compelling, resulting in a vivacious listening worthiness of gloomy fairness of unparalleled beauty that gives you immediately goose bumps. It all reminds me of an emotional mixture of the very best of Katatonia and Insomnium. Without any doubt one of the highlights of this sampler and in general what Belgium has got to offer these days.
Last one on this 22nd edition of Face Your Underground is reserved for the death/crust power station Works of the Flesh with their full of adrenaline track "Eat, Kill, Fuck, Repeat". The butchering riffs with a delightful guitar tone makes your adrenaline and testosterone reach a new level. The drums are intense and skilfully all the way through. The bass is ubiquitous, adding a thicker, heavier sound to this monstrous piece.

The venom is definitely in the tail of this sampler. Can't wait till edition 23 will be released. Horns up for the FYU-crew \../

More info: facebook.com/fyusampler